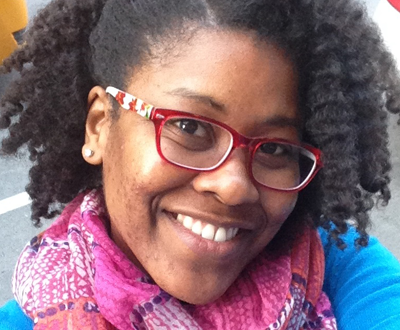 There is More Than One Way to Do Anything
Treva McKissic believes that words and art matter, evident in Creative Coils – the "Blog for the Random, Quirky, & Always-Thinking People".
Her presentations, writing, poetry, and paper art ensure that people's ideas have a voice and tell a story:
"I had an energetically positive childhood growing up half Black and Filipino in rural Brazoria, Texas, where blackberries and pecans grew wildly common. Never was I without my self-made Jordache jean shorts with blackberry stains smeared on my pockets and face. Mischief and curiosity went hand-in-hand during my youthful days, especially with my cousin, Nikka. My mother and grandmother were never without a challenge, where we were concerned. Faith, family, uniqueness, and hospitality were all the epitome of my grade school years…Fast forward to BIG CITY TIME! Houston was always my first choice of city to live in. There are always infinite festivals celebrating the "uncelebrated" and there is always an opportunity to experience creative living. I wanted to dive into as many cultural experiences as I could. Food, writing, and teaching were my gateways to experiencing culture and strengthening my perspective as a poet, artist, teacher, public speaker, and writer."
Treva McKissic holds both a B.A. in English and a M.Ed. in Curriculum & Instruction for Reading and Writing from the University of Houston. With over 17 years' experience in education, she has worked with students in PK-8 grades, junior college students, and undergraduates as a teacher, literacy coach, teacher trainer, and teacher development specialist. Treva's educational philosophy and motivation is to stimulate autonomy in children and create a path for them to discover their own gifts and individual genius through reading, writing, and the arts. Her winding educational journey has led her to copyright and self-publish her first poetry book, Erratic Epiphanies. Treva also presents professional development seminars to help teachers refine their teaching crafts and methods of teaching writing to ignite the genius in all students. She is immensely excited to guide and mentor writers of all ages and stages with their own creative writing and artistic journeys."
Treva will be leading a Saturday session: Being Open to Writing and Art That Matters.
From CREATIVE COILS: There is more than one way to do anything.